Wellbeing – Helping You Help Yourself
Established in 1997, we are a highly respected sports massage, holistic and beauty therapy centre. Our extensively trained team of therapists are dedicated to the promotion of good health in body, mind and spirit.
We are committed, where possible, to using only natural products, remedies and treatments, that will leave you looking and feeling better and more able to cope with today's hectic pace of life.
Our Top 10 reasons why BeCalmed should be your Salon and Spa of Choice
Our relaxing facilities include private changing rooms, infrared sauna for two, 4 treatment rooms plus a manicure and pedicure lounge. We also have relaxation areas where you can enjoy the benefits of your treatment.
The team of therapists at 'Becalmed' is top class and is an asset for the island and for Cowes.
Becalmed supply a broad range of health and beauty services welcomed by the local population, and visitors to the area, all year round and throughout the heavy demands of the sailing season.
I have been using the therapeutic services of Be Calmed for the last twelve years as the company has been able to provide a range of therapies and excellent customer service.
I have been going to BeCalmed and Finishing Touches for several years. I live and work in London and come to The Island to sail. I use BeCalmed on a regular basis and whether it be a much-needed sports massage or some pampering the staff are always able to help.
I have been visiting Becalmed for many years and have always found it a place of peace and tranquillity. This has become more necessary since I have been running my own business for the last 5 years. I value being able to come and relax and switch off for a time in the beautiful surroundings and be pampered.
I have been coming to BeCalmed a long time and I have always been impressed with the experience. All staff are very professional. I have tried other places nearer to home but I consistently come back to you as you provide a consistently high level of service, many thanks.
I've been going to BeCalmed for over a year now. It's by far the best salon I've been to. From the moment that I was greeted at reception to when I walked out the door, I felt as though I was in very capable hands. The range of treatments provided here is exceptional.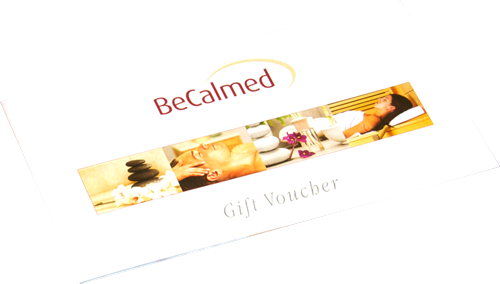 Gift Vouchers Now Available
Order Through Our Online Store