Exceptional career opportunities
At BeCalmed we offer exceptional career opportunities including:
Training with our registered trainer. We can qualify you in Massage, Reflexology, Indian Head Massage, Hopi Candles, Aromatherapy and Hot Stone Massage.
Advanced training. We train you to be the best in the industry. You can go onto learn skills in advanced facials, massage and reflexology as well as improving your skills in qualifications you already have.  Plus have access to ESPA training, which is the number one spa company in the world.
Award-winning opportunities.
We encourage you to be the best you can be.
Promotional opportunities. We encourage you to grow and develop in your career.
High earning potential. We encourage and reward hard work and passion.
Would you like to see what you are truly capable of?
This opportunity is for you if:
You are driven to do the best job
Love people and helping them grow their self-worth
Are organised and can make sure systems are followed
Love learning and developing yourself and others
Want secure employment
Experience:
Graduate Programme: if you are just starting out in our industry, please contact us in regards to our progressive graduate programme.
Spa Therapist/Senior Therapist – if you have experience in the industry and would like to forward your career with our unique training and career development programme, we would love to hear from you.
Plus, don't forget the many bonuses of being employed in a well-established company:
Paid for holidays.
Pension option.
Ongoing Development.
Thriving buzzing environment.
Product and Makeup Discounts.
Support network.
Your Tax and PAYE are handled in-house, so you don't have to.
Working in an insured business.
No bookkeeping.
No worrying about quiet weeks as you will have a steady income.
The benefits to working with us are endless!
In return we look for passion, care and consistency with a commitment to developing yourself and your skills.
Does this sound like a fabulous career opportunity for you or someone you know?
Please contact Caroline Hurley on 01983 243183 email: info@becalmedincowes.co.uk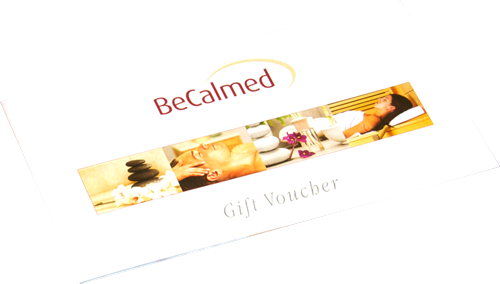 Gift Vouchers Now Available
Order Through Our Online Store